Passage: A Day in Eternity
10:00am-6:00pm, July 25 - September 13, 2015/ admission free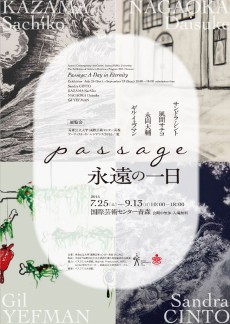 We all live along a time continuum that blurs each waking moment. Similarly, artworks extend beyond the life of a single artist, emerging where individual moments of human realization intersect on a timeline spanning all of human history. Art formed at these individual points in humanity's fleeting existence may have eternal implications. And as the eternal time continuum progresses from the past to present and into the future, every artwork, while perfectly complete, hides signs of variation and alteration. This may be the very reason why the art appreciation experience can often become an incredible moment that forever remains with the audience.
At the Aomori Contemporary Art Centre's (ACAC) Artist in Residence (AIR), production and presentation share close temporal and spatial proximity. We witness AIR artists transform their productions into artwork through their constant efforts, which in turn lead to developments due to unexpected encounters and sudden surges of inspiration. Regardless of intention, these artworks retain traces of their creation, allowing the audience to go beyond the typical museum to examine the production behind them.
The ACAC has taken the title of this year's exhibition from Greek film director Theo ANGELOPOULOS' Eternity and a Day. The program observes the successive marks of time that continue from the past into present and future. This year's resident production and exhibition invites artists whose expression can unite past time and space with the present to build value for the future.

Sandra CINTO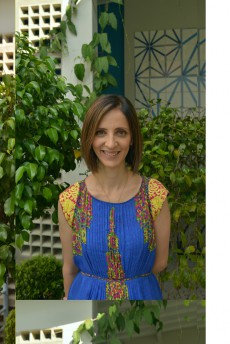 Sandra CINTO creates delicate, complex drawings which symbolically depict natural phenomena such as stars and snowflakes. Her works are often exhibited as large-scale installations that make full use of their exhibition space to envelop the viewer and generate a space of meditative tranquility.
1968 Born in Santo Andre, Brazil.
Graduated from the Faculdades Integradas Teresa D'Avila, Santo Andre, Brazil.
Exhibitions
2014 "La Otra Orilla," CAAM Centro Atlantico de Arte Moderno in Madrid, Spain.
2012 "Encounter With Waters", Seattle Art Museum, Olympic Sculpture Pavillon, Seattle, USA.
2010 "Water Imitation," Instituto Tomie Ohtake in Sao Paulo,Brazil
2007 "The Difficult Crossing (Apres Gericault)," MACUF Museum of Contemporary Art Union Fenosa in La Coruna, Spain.
2003 "Wall Project,""Sao Paulo Museum of Modern Art/ Museu de Arte da Pampulha, Belo Horizonte.
Sandra CINTO, Imitation of water, permanent pen on painted wall, 2010. Overall view of the first room, Instituto Tomio Ohtake, Sao Paulo.
photo: Everton BALLARDIN
Sandra CINTO, Untitled, permanent pen and acrylic on canvas, 2012. photo: Ding MUSA
KAZAMA Sachiko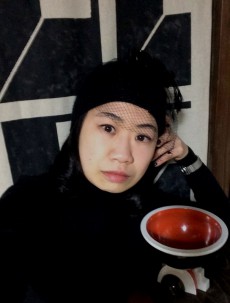 KAZAMA Sachiko creates woodblocks on the subject of contemporary social issues in a manner reminiscent of the magnificent illustrated scrolls produced throughout Japan's history. She applies the unique texture of the woodblock medium and strong dark colors to a historical, expressionist exterior. Her works, drawn from contemporary motifs, exist as memorials inextricably linked to the past yet simultaneously envisage the future to come.
1972 Born in Tokyo, Japan
1996 Department of Printmaking, Musashino Art School, Tokyo, Japan.
Exhibitions
2015 "Translation Theme Park," Uppsala Konstmuseum, Uppsala, Sweden.
2014 "We can make another future: Japanese art after 1989," Gallery of Modern Art, Brisbane, Australia.
2014 "Fascinating Japanese Woodcut Print," Yokohama Museum of Art, Kanagawa, Japan.
2013 "Roppongi Crossing 2013: OUT OF DOUBT," Mori Art Museum, Tokyo, Japan.
2013 "Edo Pop: The Graphic Impact of Japanese Prints," Japan Society Gallery, New York, USA.
2012 "Art and Air -- A Story of Art and Science Involving the Skies and Aircraft," Aomori Museum of Art, Aomori, Japan.
KAZAMA Sachiko, Alas! Heisoku-kan (Raging Battle-ship the Dead-End), woodcut print (panel, Japanese paper, sumi ink), 2012.
© KAZAMA Sachiko  MUJIN-TO Production, Tokyo
KAZAMA Sachiko, Nonhuman Crossing, woodcut print (panel, Japanese paper, oil ink), 2013.
© KAZAMA Sachiko MUJIN-TO Production, Tokyo.
NAGAOKA Daisuke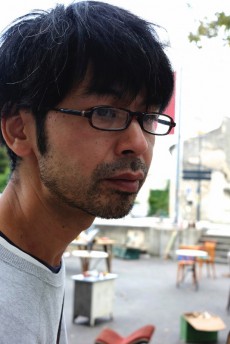 NAGAOKA Daisuke produces experimental drawings that interpret moments of creation and penciled animations in fast forward, keenly aware of the relationship between memory and the physical body. NAGAOKA intentionally leaves traces of production in his works. They bring with them signs of personal memory and time forever lost which produce a lingering effect on their exhibition spaces.
1973 Born in Yamagata, Japan.
2003 Completed MA in Fine Arts, Wimbledon School of Arts, London, UK.
Exhibitions
2014 "Alterspace," Asahi Art Square, Tokyo, Japan.
2013 "Art Gallery," Kawasaki City Museum, Kanagawa, Japan.
2012 "The Vision of Contemporary Art (VOCA) 2012," The Ueno Royal Museum, Tokyo, Japan.
2012 "Reconstellation," hpgrp Gallery Tokyo, Tokyo, Japan.
2010 "Phase Transition of the Story," Project Fulfill Art Space, Taipei, Taiwan.

NAGAOKA Daisuke, New Cities, 2011. ©Tokyo Wonder Site

NAGAOKA Daisuke, Forest/ Bus Stop/ The Oldest Memories, installation at hpgrp GALLERY Tokyo, 2011.
photo: TANAKA Kei
Gil YEFMAN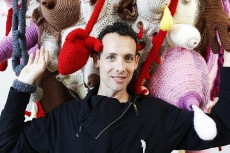 Gil YEFMAN crochets his artworks using a variety of materials. He indulges in the intrinsically therapeutic virtues of knitting as a means to contemplate personal and collective trauma in his artworks and creative process. At the same time, they examine recurrent obsessive patterns in human society.
1979 Born in Haifa, Israel.
2003 Graduated from Bezalel Academy of Art and Design, BFA degree.
Exhibitions
2014 "Bay Mir Bistu Sheyn (To Me You Are Beautiful)," Ronald Feldman Fine Art, NY, USA.
2013 "Alterity," Cultural Espace Louis Vuitton, Paris, France.
2013 "About Stupidity," Petach Tikva Museum, Israel.
2012 "Galicia Mon Amour: Folly, Fantasy and Phantasm," Sokol Gallery, Nowy Sacz, Poland.
2011 "Body Without Body," Georg Kolbe Museum, Berlin, Germany.
Gil YEFMAN, Tumtum, 2012.
Gil YEFMAN, Eyes and Teeth, 2012.

Organized by Aomori Contemporary Art Centre (ACAC), Aomori Public University.
Sponsored by the Agency for Cultural Affairs, Government of Japan, in Fiscal Year 2015.
In Cooperation with Embassy of Israel in Japan, Mujinto Production, AIRS, ACAC Student Supporters, Art Club of Aomori Public University.