OPEN CALL: CALL for OPEN
Sep. 16 (Wed)―Dec. 22(Tue), 2020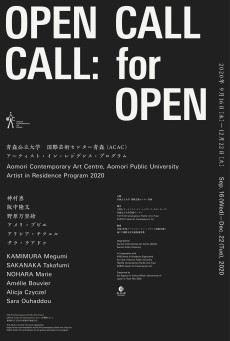 The Aomori Contemporary Art Centre (ACAC) will celebrate its 20th anniversary in December 2021. To commemorate this milestone, we have designed the 2020 Artist-in-Residence (AIR) Program so that exhibiting artists can make the most of the ACAC's unique spaces, whether they choose to stay here at the ACAC or participate remotely from wherever they are in the world.
Artists KAMIMURA Megumi, NOHARA Marie, and SAKANAKA Takafumi will each stay at the ACAC at different periods to hold workshops and collaborative productions. Kamimura will present a performance while Nohara and Sakanaka will display their work as exhibitions. In light of travel restrictions due to the outbreak of COVID-19, an additional five artists will participate online from their respective locations outside of Japan. This year's program is the ACAC's first attempt at remote production and interaction between artists and members of the Aomori community and its first foray into presenting artists' work online. In doing so, we hope to gain new insights into communication and creation by embracing the limitations of our relative immobility. Discussions are currently underway as to the best ways of conducting production and research online, interacting with the community, and exhibiting the artwork itself.
The 2020 AIR program combines the efforts of eight artists—some staying at the ACAC and others participating remotely—through simultaneous and asynchronous interaction, creation, and presentation. As the organizer, the ACAC will share the artists' daily movements and the dynamic connections that emerge in the process. We hope that this will prove to be an enjoyable experience for the artists and community alike and look forward to your involvement in creative activities, both online and off.

KAMIMURA Megumi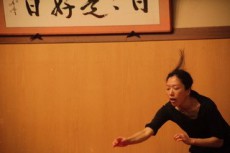 Choreographer and dancer.
Kamimura has been choreographing and performing her own pieces since 2004 and has performed in and outside Japan. Observing the body from various aspects such as a substance, language and relationships with others, she makes works by reconstructing them. While performing solos, she started "Zen-go" with TAKASHIMA Shinichi in 2011 and "babytooth" with TSUDA Michiko in 2016. She also works as an administration member of "Dance Strategy Meeting" since 2018. Her recent works include Strange Green Powder (Festival/Tokyo 19, Tokyo), Screen Baby #2 as babytooth in 2020 (Tokyo Arts and Space Hongo, Tokyo).
In Aomori, she is going to develop her work, Screen Baby #2She was here 30 minutes ago. (2019), and plans to create, perform solo dance pieces, hold workshops and show her work-in-progress to the public.
Portrait photo: KANAGAWA Shingo
SAKANAKA Takafumi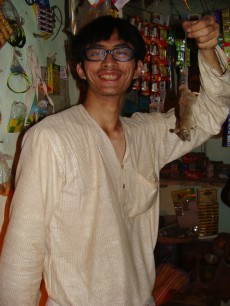 Born in Tokyo in 1989. Graduated from Department of Moving Images and Performing Arts, Faculty of Art and Communication Evening Division, Tama Art University. He works on photography, video and installation while focusing on the periphery of cities and architecture such as underdrain, attics, under the floor, ancient mounds, and vacant lots. Through his actions as if he were playing around, he connects blank spaces created in the midst of social changes with individual body and emotions as if tying them together like a collage. His recent exhibitions include his solo show "Super Play" (Token Art Center, Tokyo, 2019) and art project "Hikikomisen/Hoshasen" (Absorption/Radiation), (Dai 19 Hokuto Bldg., Saitama, 2019).
In this residency, he focuses on "itchiness" and unconscious body movements related to it while he plans collaborative production and an exhibition as well as research on totalitarianism and labor in agriculture.
NOHARA Marie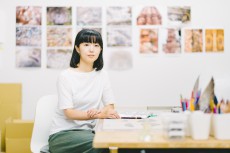 Received her M.F.A. from Graduate School of Arts, Kyoto City University of Arts. With an interest in the rather 'ambiguous' creative process of paintings, Nohara creates works by using self-made tools such as rulers and paper patterns. She has taken part in multiple workshops in various parts of Japan, and has also worked on collaborative works. By interacting with others and incorporating this into her works, she explores new possibilities of paintings. Her recent exhibitions include "Organized confusion" (gallery TOWD , Tokyo, Japan, 2020), "Asuka Art Village 2019 Round Trip" (Nara Prefecture Complex of Man'yo Culture observation lobby , Nara, Japan, 2019).
During the residency, she will work on two motifs, one is her drawings and the other is stone patterns. She will also show her production process at the exhibition and complete 9 meter (w) x 3 meter (h) work by arranging about 220 panels. She will also collaborate during the first half of the residency.
Portrait photo: Yoshiro Masuda

Buried images
Acrylic, medium, gesso, canvas, panel
468.2×134.9cm×25mm, 2020
Photo: Yoshiro Masuda
Amélie BOUVIER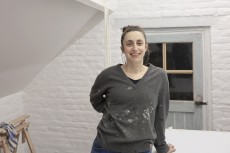 Amélie Bouvier (b.1982, France) lives and works in Brussels, Belgium. Her practice builds from historical research in the field of astronomy to question issues related to cultural memory and collective heritage. Astronomers in particular, and scientists in general, don't only explain the world, they also represent it through the construction of diagrams, illustrations, photographs or equations. For Bouvier, scientific imagery is an extension of knowledge that reveals ideological and ethical frameworks, which risk cloaking aspects of the reality they aim to represent. She is particularly interested in the sky and stars as a landscape that expose current socio-political contradictions and knowledge gaps. While her work is based on historical facts, data and visuals, she consistently mixes this with speculative imagery, adapting tools and techniques to present alternative potentialities. Her recent exhibitions include "Eight Minutes Ago" (Greylight Projects、Belgium, 2019). Bouvier is represented by Harlan Levey Project, Brussels.
She will show her installation work in which Bouvier's past works with motifs of the solar system and people's memories are combined and moving images and cloth, etc. are used.
Amélie Bouvier Solo presentation at ACAC
"I've Always Looked to the Sky"
3 Oct - 1 Nov, 2020

Nature Variability, 2019
Installation view at the Former Royal Observatory of Belgium, Brussels,
curated by Marie Papazoglou.
10 prints on cotton fabric and sculpture, dimensions variable.
(Photo by Gilles Ribero. Credits: Amélie Bouvier and Harlan Levey Projects)
Alicja CZYCZEL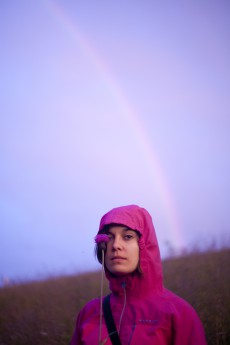 Born in 1991 in Poland, lives and works as choreographer and dancer between Poland and France. She is a graduate of exerce, Master in choreography, at the National Choreographic Centre ICI-CCN in Montpellier, France (2019). Moreover, she holds a master's degree in interdisciplinary studies in the humanities (University of Warsaw and Paris-Sorbonne, 2016). In her artistic practice she investigates relations created through imagination, object-oriented performativities and movement of attention. She develops site-specific projects with a desire to extend choreography beyond the dance studio and the black/white box to natural-cultural peripheries. In this program, she will continue her artistic research and open a new chapter of public presentation of her work through correspondence with inhabitants of Aomori by written, sound and visual impressions, traces and documents.
portrait photo: Filip_Madejski

Bouger le paysage, une balade du jeudi, 2019
Photo: Filip Madejski
Sara OUHADDOU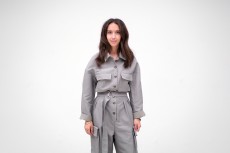 Born in France into a traditional Moroccan family and having grown up with two different cultural backgrounds of Morocco and France, Sara Ouhaddou was led to a practice based on a continuous dialogue between the two. She studied at the École Olivier De Serres Paris. She strikes a balance between traditional Moroccan art forms and the conventions of contemporary art, aiming to grasp, in a new perspective, handed-down cultural traditions forgotten in creative activities of fine arts and contemporary art. Her recent exhibitions include "Global resistance"(Centre Pompidou, Paris, France, 2020).
For this program, she will conduct research on Jomon (cord-marked) earthenware and Kogin-zashi needlework, which she has been interested in since she visited Aomori two years ago, and she will study them in comparison with old pottery and textile patterns of the Berbers, indigenous people of Morocco. She will present them in an exhibition format.

Atlas (2) - History of systems of understanding
Natural wool, Fossils Marble, Rissani.
Jasmine TOGO-BRISBY
Based in Wellington, New Zealand. Graduated from Massey University and Griffith University in 2017. Togo-Brisby is a fourth-generation Australian South Sea Islander, whose great-great-grandparents were taken from Vanuatu as children and put to work on an Australian sugarcane plantation. Her research examines the historical practice of 'blackbirding' as the Pacific slave trade, and its contemporary legacy and impact through the slave-diaspora.
Togo-Brisby received a recommendation is planning to make their way ACAC to participate in our artist-in-residence program after the efforts to stop the spread of COVID-19 have concluded.
Uliyana PODKORYTOVA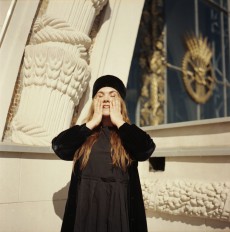 Podkorytova is a Russian Federation native participating remotely from Moscow(b. 1984) and a graduate of The Rodchenko Art School (Moscow). Through the field of inner/personal mythology and pseudo-folklore, she addresses the loss of identity in the face of globalization. The fruits of which can be seen encapsulated on video, voice performance and painting. Her recent exhibitions, among others, include "Ray'ok"(Multimedia Art Museum, Moscow, 2020).
In this residency program, Podkorytova furthers her efforts in this field by studying contemporary folklore and debuting the latest in her ongoing video works. Research has taken Podkorytova from remotely interviewing Aomori residents, to also analyzing the local festival and traditional carving methods within Aomori as part of her multidisciplinary artistic practice.
She will stay at ACAC after the efforts to stop the spread of COVID-19 have concluded.
portrait by Anna Petrova

"The wig do", one channel video, 3'00'', 2018


''Let's be what could not be!'', photo collaboration with Pavel Smirnoff for ''Dialogue of arts'' magazine, 2020
"Contact Zones: Far East" Selected participating artist, SATO Tomoko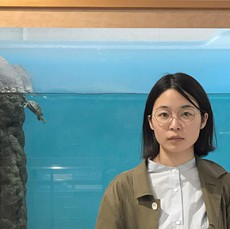 ACAC participates in "Contact Zones: Far East," an international research exchange program conducted by ZARYA Center for Contemporary Art(ZARYA CCA) and Golubitskoe Art Foundation in collaboration with partner organizations in Asia for the purpose of developing the cultural exchange and collaboration between Russia and Far East nations. Artists are dispatched from Japan after the selection by ACAC, ZARYA CCA and Golubitskoe Art Foundation.
Selected participating artist
SATO Tomoko
Artist
Born in Nagano in 1990. Received her M.F.A. in Film and New Media from Graduate School of Tokyo University of the Arts. Sato expresses with "narrative," mainly in her lecture-performance which is her main activity.
Her recent works include The Reversed Song, A Lecture on "Shiro-Kitsune (The White Fox), The Debris and Tower and Centaurus on Route 103 (as solo exhibition in Gallery Saitou Fine arts, Kanagawa) in 2018. The Double Tsuburaya and Museum (as solo exhibition "MINE EXPOSURE" in BITONG POINT, Akita) in 2019 etc. She took part in an artist residency at Hospitalfield in Scotland, UK through Exchange Residency Program 2019 by ARCUS Project.
www.tomokosato.org
In Russia, Sato will conduct research to develop her lecture-performance on Parthenon as the theme and give a performance of her work-in-progress. She has been studying the urbanization of Japan, Athens and Edinburgh through "Parthenon" since 2019, and this time, adding the research on ruins of ancient Greece left in Krasnodarsky Krai region in Russia, she would hopefully regrasp the East and the West in the world and deepen her work with compound eyes.
Lecture-performance, Video Installation, 2019
Photo: Kaya Tei

Organized by|Aomori Contemporary Art Centre (ACAC), Aomori Public University
In Cooperation with|AIRS (Artist in Residence Supporters), Art Club of Aomori Public University, TAUTAI Contemporary Pacific Arts Trust, ZARYA Center for Contemporary Art
Supported by|the Agency for Cultural Affairs Government of Japan in Fiscal Year 2020.
Endorsed by|The To-o Nippo Press Co., Mutsusimpou Co,. Ltd., NHK Aomori Broadcasting Station, RAB (Radio Aomori Broadcasting) Co., Ltd., Aomori Television Broadcasting Co., Ltd., Aomori Cable Television, Aomori Fm Broadcasting.