SIDE CORE/EVERYDAY HOLIDAY SQUAD"under pressure"
April 24 (Sat)- June 27 (Sun), 2021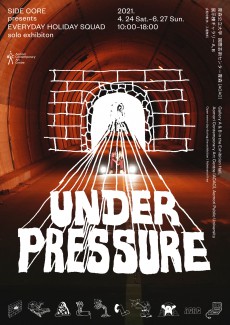 We are pleased to announce a solo exhibition by EVERYDAY HOLIDAY SQUAD, produced by SIDE CORE. SIDE CORE is an art collective that has been holding exhibitions and events across Japan that are designed to "make some noise." Based in Tokyo, the group's activities are centered around street art.
For this exhibition, SIDE CORE and EVERYDAY HOLIDAY SQUAD braved the strong winds of Cape Tappi at the northern tip of Honshu to conduct research on the Seikan Tunnel. While touring the tunnel's inclined shaft and its site on reclaimed land, which took 24 years to complete, the collective focused on the tunnel's spring water. Every minute, around 20 tons of water is continuously released into the sea from the tip of Cape Tappi. The fact that the tunnel continues to discharge such amounts of water long after it was built presents an environmental challenge that is cyclical in nature, one that must be handled repeatedly to maintain such a massive structure.
"Environmental cycle" is a key phrase in this exhibition, which will bring the strong winds of change into the gallery space to air out the monolithic architecture of the ACAC. The current pandemic has put a lot of pressure on all of us, but SIDE CORE's playful approach is sure to crack open an air hole and breathe new life into current conventions and establishments in art.

SIDE CORE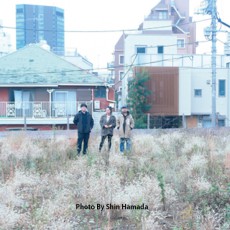 SIDE CORE is a unit started in 2012. The group is composed of members TASKASU Sakie, MATSUSHITA Tohru, and NISHIHIRO Taishi, who have been behind various art projects on street culture. Their projects are action-based and designed to "make some noise," based on research of different cities and regions. In addition to holding exhibitions at galleries and museums, they have also extended their range of activity outside the white cube to outdoor spaces that include mural projects and "NIGHT Walk" that explores the city. All of their projects aim to shift perspectives and thought surrounding public spaces and expand the realm of creative expression and action. Recent exhibitions include Great Kyoto Arts Festival 2020 in Kyotango (2020, Kyoto), Living Tokyo (2020, Watarium, Tokyo), and Out of Blueprints by Serpentine Galleries (2020, NOWNESS, UK) etc.
SIDE CORE, MoWA / BIEN, EVERDAY HOLIDAY SQUAD, RIVA Christophe, MORIYAMA Taichi(2019, Reborn-Art Festival 2019, Miyagi)
SIDE CORE, Okinawa North-End Pop Uppers / STANG, security blanket, KINJO (2021, YAMBARU ART FESTIVAL, Okinawa)
EVERYDAY HOLIDAY SQUAD
Anonymous artist collective working with SIDE CORE since 2015. This exhibition features artists, curators, video artists, and more. They create playful artworks that intervene—from the perspective of street culture—in urban spaces and the rules that exist there.
EVERYDAY HOLIDAY SQUAD, rode work(2017, Reborn-Art Festival 2017, Miyagi)Photo Courtesy of: Reborn-Art Festival 2017, Photo: GOTO Shuji
EVERYDAY HOLIDAY SQUAD, cyclops at cape(2018-2019, Kyoto Re:Search/Great Kyoto Art Festival 2020 in Kyotango, Kyoto)
Organized by|Aomori Contemporary Art Centre [ACAC], Aomori Public University
In Cooperation with|Aomori City Board of Education, AIRS (Artist in Residence Supporters), Art Club of Aomori Public University and so on
Special Support for Artist's project/work|PCAF: Post Covid-19 Arts Fund
Supported by|The Mitsubishi UFJ Trust Foundation for the Arts
Nominal Support|NHK Aomori Broadcasting Station, Aomori Television Broadcasting Co., Ltd., RAB Aomori Broadcasting Corporation, Asahi Broadcasting Aomori Co., Ltd., Aomori Cable Television, Aomori Fm Broadcasting, ABH (Aomori Bunka Housou), The To-o Nippo Press Co., MUTUSINPOU co,. ltd., The Dairy-Tohoku Shimbun Inc.