PROGRAM
プログラム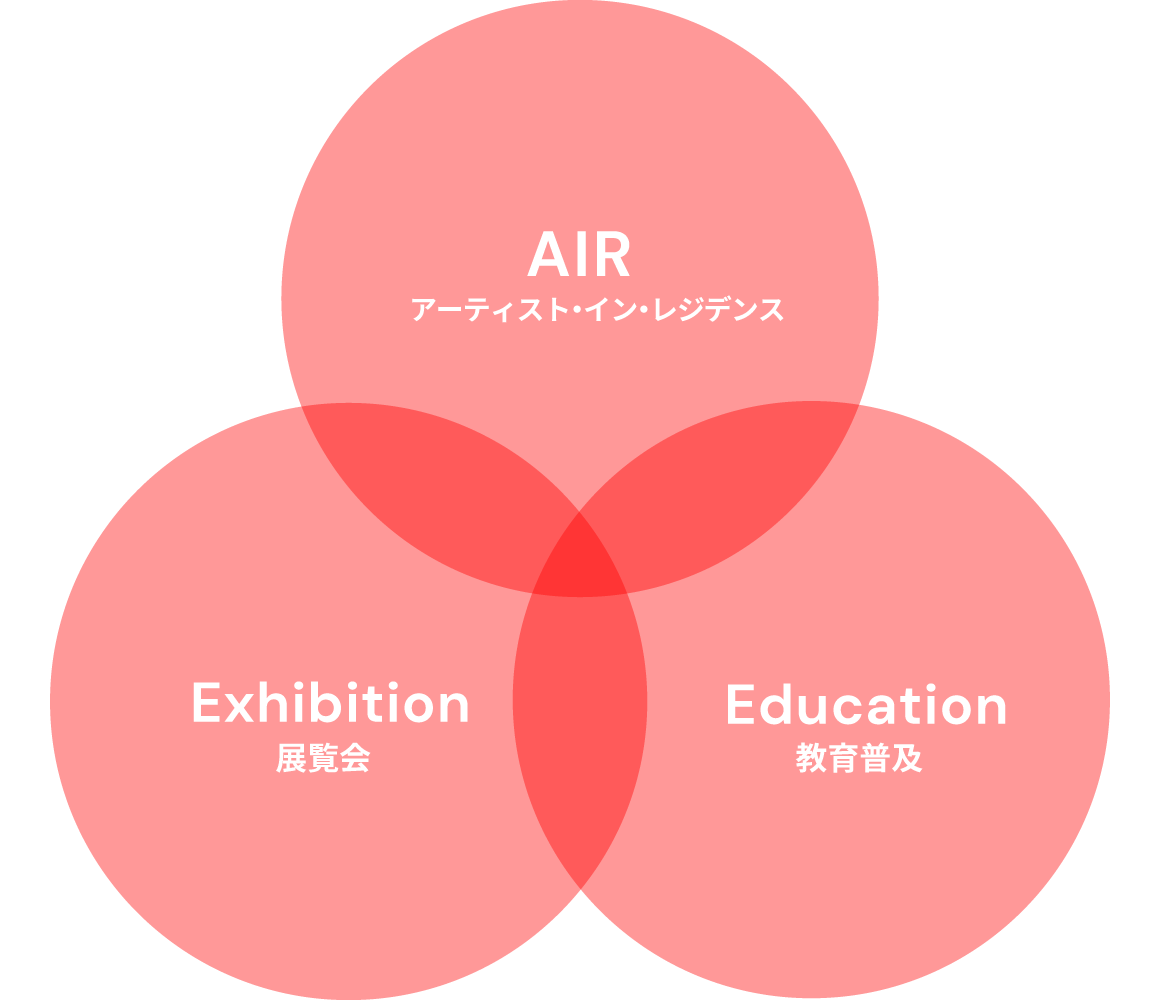 国際芸術センター青森(ACAC)は地域のアートセンターとして「アーティスト・イン・レジデンス(AIR)」、「展覧会」、「教育普及」を3つの柱としたプログラムを実施しています。さらに、様々なジャンルの表現者と、参加者が集う場として「表現のコモンズ」の企画を行っています。多彩なプログラムを通じて、当館周囲の自然や建築等の特徴的な環境を活かして、「暮らす」、「つくる」、「考える」表現者、表現に触れようとする人々の創造的活動を支援、促進し、広く伝えます。
The Aomori Contemporary Art Centre (ACAC) is a regional art center with programming built around three creative pillars: artist-in-residence (AIR) programs, exhibitions, and educational outreach. Our current programming also includes a Creative Commons as a place where artists and others can come together to participate in a variety of outlets for creative expression. Through its diverse programming, and coupled with its distinct architecture and abundant natural surroundings, the ACAC aims to support, promote, and share the creative pursuits of living, creating, and thinking artists as well as individuals who appreciate creative expression.
Artist-in-Residence(AIR)
ACACは国内外のアーティストが一定期間滞在しながら創作活動を行うアーティスト・イン・レジデンス(AIR)プログラムを中心事業とした施設として設立されました。主に、学芸員の企画によってアーティストを招く指名型、参加者が公募によって選ばれる公募型があり、世界中からアーティストが集まり、国際交流を行っています。アーティストは滞在中、作品制作やリサーチに加え、ワークショップ、トーク、協働制作などの学生や市民との交流プログラムと、成果発表として展覧会や公演を行います。アーティストと学生・市民との多様な交流を図る様々な芸術体験の場を設けることで、芸術に関わる人材の育成、および芸術文化の振興の一助となることを目的としています。
The ACAC was founded as a facility to sustain an artist-in-residence (AIR) program that invites artists from Japan and abroad to live and work within the premises for a period of time. There are two types of AIR programs at the ACAC: the first is by invitation or nomination by a curator, and the other is through an open call for applications. Together, they provide opportunities for artists from all over the world to come and engage in international exchange with the Aomori community. During their stay, artists are able to focus on research and production in addition to workshops, talks, collaborative production, and other exchange programs in the local community, which often culminate in exhibitions and performances. At the ACAC, we aim to offer art education and promote the arts and culture by providing opportunities for art experiences to unfold in a variety of diverse interactions between artists, students, and residents of the local community.
Application Guideline|公募情報
Paid Residency|自主滞在
Exhibitions
展覧会
AIRプログラムの成果発表のほか、滞在制作施設を活かしながら、より展覧会に焦点を当てたプログラムを実施しています。アーティストによる実験的な活動、地域の事柄に新たな解釈を加える取り組みなど、この時、この場所にある意義がある表現を紹介します。
In addition to the AIR program, the ACAC is introducing more exhibition programming that utilizes our resident production facilities. Our exhibitions present modes of expression that have significance in our current time and place and include experimental activities by artists as well as efforts to add new layers of interpretation to local matters.
Education/Learning Programs
教育普及
ア―ティストや専門家を講師に迎えたワークショップや、学芸員による鑑賞プログラムなど、年齢に関わらず全ての人が表現を通して考えたり、実際に創作活動することを通して、他なるものをそれぞれが理解することを目的としたプログラムです。
学校の校外学習受け入れや出張授業なども、条件やご要望に応じてアレンジします。
Our education/learning programs are aimed at everyone, regardless of age, to understand the world through a lens of creative expression and activities in practice. They include workshops by artists and experts as well as educator- and curator-led art appreciation programs. The ACAC can also arrange school trips and offer traveling art classes according to specific needs and requirements.
Creative Commons
表現のコモンズ
ワークショップやパフォーマンス公演など、アーティストと参加者が出会い、交流しながら、集まった人々が共に創り、共に考えるためのプログラムです。1日限りのものから、年単位で続くものまで、様々な期間で行います。
The Creative Commons is a program for people to come together to create and think with each other through workshops and performances between artists and participants. From daily to multi-year projects, the commons is conducted on many different timelines.